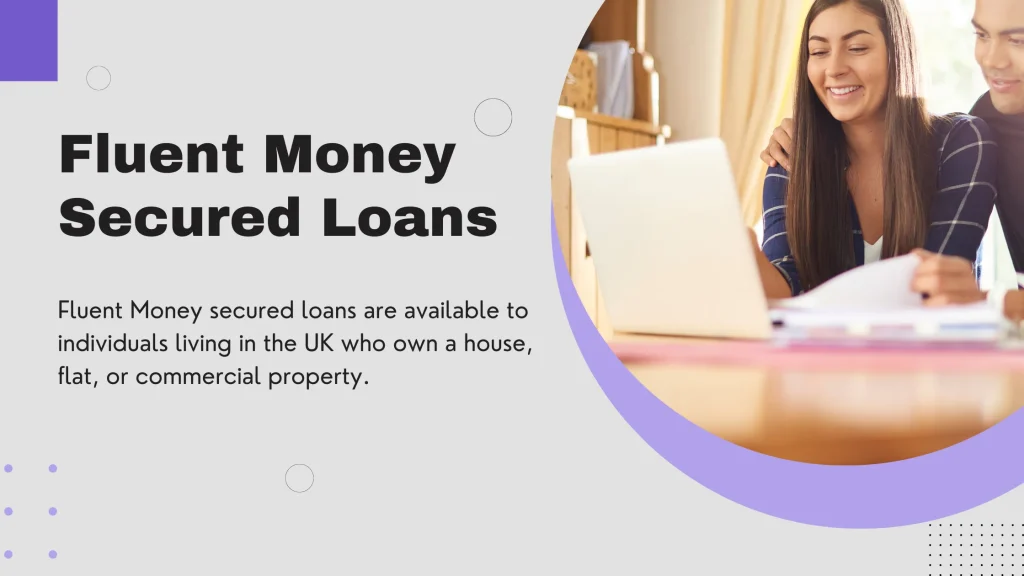 Are you looking for a secured loan to finance your home, flat or commercial property? Look no further than Fluent Money's Secured Loans.
With fixed and variable rates available, fast and straightforward eligibility checks with UK lenders, and low-interest rates even if you have CCJs, arrears or defaults in the past. There are many advantages to choosing Fluent Money secured loans.
Discover today how straightforward it can be to obtain authorization for one of our secure loans with a free quote.
[ez-toc]
A new product from 1st February 2023, unavailable on the comparison engine sites, Fluent Money secured loans.
Loan to value up to 90%
You don't need to be an existing Fluent Money customer
A free no, obligation 3rd party property valuation
6.1% fixed for life
Flats and other leaseholds have full open market valuations applied
Keep your existing mortgage
The term can be matched to your existing mortgage for up to 25 years
No arrangement, product or completion fees
No early redemption penalties
Fast agreement in principle based on soft credit search that has no impact on your credit history
Please complete the initial no-obligation enquiry form: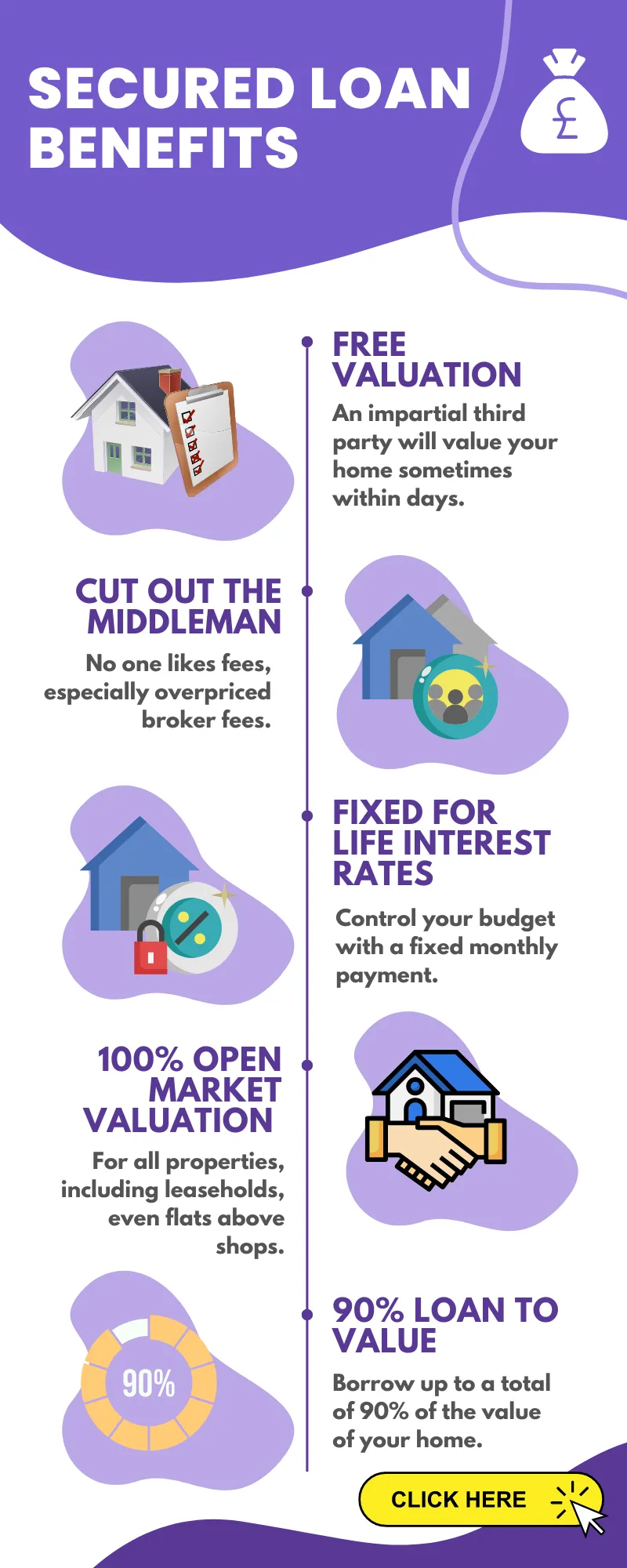 What is a Secured Loan?
A loan that necessitates the borrower to put up something of value as a guarantee for repayment is known as a secured loan. This collateral is usually property such as a house, flat or commercial building and can be used as security for repayment if the borrower defaults on their payments.
The lender will then have legal rights over this property until the debt has been paid off in full.
A secured loan provides the possibility of obtaining larger sums than with an unsecured personal loan, making them suitable for major acquisitions or renovations.
Because of the decreased risk to lenders, secured loans generally have lower interest rates than other forms of borrowing.
Secured borrowing can be a beneficial choice for accessing money, yet it is crucial to grasp the potential hazards of such loans.
Fluent Money secured loans can be an attractive option for those who meet specific eligibility requirements and have an acceptable form of collateral.
To Recap: A secured loan is a type of borrowing that involves putting up collateral, such as property, in order to access larger amounts of money at lower interest rates. As the lender is granted legal authority over a borrower's possessions if they are unable to meet their payment schedule, it lessens their danger and makes them more eager to loan. In other words: "Put your house on the line for a better deal".
Who Can Take Out a Fluent Money Secured Loan?
Fluent Money secured loans are available to individuals living in the UK who own a house, flat, or commercial property. To gain a loan from Fluent Money, applicants must fulfil the necessary requirements and show proof of ownership.
Eligibility Requirements for Fluent Money Loans:
To qualify for a secured loan from Fluent Money, applicants must be over 18 years old and have an income that can cover the repayment amount.
Additionally, they must be able to provide proof of identity such as a passport or driver's license and proof of address, such as recent utility bills or bank statements.
Types of Properties Accepted as Collateral:
The types of properties accepted by Fluent Money as collateral include residential homes (houses/flats), buy-to-let properties, holiday homes, commercial buildings (offices/warehouses), land & development sites and mixed-use properties. All properties used as security must be owned outright by the borrower; no shared ownership is allowed.
Applicants should note that their credit score will affect their eligibility for a secured loan with Fluent Money, even if they have CCJs (County Court Judgments), arrears or defaults on their record.
However, thanks to its bespoke panel of lenders across the UK market offering competitive interest rates on loans up to £250k+, those with less than perfect credit scores may still find it easier than ever before to get approved through this provider's services.
Secured loans from Fluent Money can be a great way to finance major purchases, but it is important to understand the eligibility requirements and other considerations before applying. Examining the application process is essential for those seeking a secured loan from Fluent Money.
How to Apply for a Fluent Money Secured Loan?
Applying for a secured loan with Fluent Money is fast and straightforward.
To be eligible for a secured loan with Fluent Money, applicants must meet certain criteria such as being 18 years or older, owning property in the UK to serve as collateral against the loan amount and having an acceptable credit score.
Applicants must provide evidence of identity, address, income and bank statements to demonstrate their ability to repay the loan amount over time.
This includes a passport or driver's license for proof of identity; utility bills as evidence of address; payslips as proof of income; and at least three months' worth of bank transactions.
Furthermore, other relevant information related to one's finances can help assess an applicant's capacity to service the debt.
Applying for a Fluent Money Secured Loan is an easy and straightforward process. Considering the interest rates and repayment options when selecting a loan is essential, so let's examine what possibilities are available.
Interest Rates and Repayment Terms for Fluent Money Secured Loans
Fluent Money offers competitive interest rates and flexible repayment terms for secured loans.
Whether you're looking to refinance your existing loan or borrow money against the equity in your home, Fluent Money can provide a solution tailored to meet your needs.
When it comes to interest rates, Fluent Money offers both fixed and variable options. A fixed-rate loan can offer a steady, foreseeable payment for the duration of its term; this could be advantageous if you need to plan ahead financially.
Variable rate loans may offer lower initial payments but are subject to change depending on market conditions; if you're comfortable with taking on some risk in exchange for potentially lower payments, this could be an option worth considering.
Repayment terms vary depending on the type of loan product chosen but generally range from 1-30 years, with monthly instalments being paid back over that period of time.
Some lenders may also allow early repayment without penalty, which is beneficial if you come into additional funds or want to pay off your debt more quickly than initially planned.
Additionally, Fluent Money has access to lenders willing to consider applicants with CCJs (County Court Judgements), arrears or defaults; even those with less-than-perfect credit histories can still get approved at reasonable interest rates and favourable repayment terms.
Fluent Money secured loans offer competitive interest rates and flexible repayment terms, allowing customers to find the loan that best suits their needs.
Advantages of Choosing Fluent Money for Your Secured Loan Needs
Fluent Money offers a range of advantages for those looking to take out a secured loan. With their comprehensive panel of UK lenders, Fluent Money provides a fast and straightforward eligibility check process to help you find the best loan option for your needs.
They offer fast and simple eligibility checks with their bespoke panel of UK lenders, meaning you can get approved quickly and easily without worrying about lengthy paperwork or waiting times.
Furthermore, they offer low-interest rates even if you have CCJs, arrears or defaults on your credit report – so no matter your financial situation, Fluent Money can help.
Fluent Money provides an easy solution for those who need access to funds quickly and securely.
Their team of professionals will guide you through the process, providing comprehensive explanations to ensure no surprises with fees or other charges when taking out a loan.
Plus, they provide tailored advice depending on your individual circumstances, so whether it's a large sum of money needed for home improvements or just some extra cash until payday arrives – Fluent Money has got you covered.
Customers have plenty of choices when it comes to repayment options and interest rates offered by Fluent Money secured loans.
Customers can choose between fixed-rate loans that keep repayments steady over time and variable-rate loans, which give more flexibility but could potentially result in higher payments should interest rates rise during the term period.
No matter which option customers decide upon, repayment terms are designed around each individual customer's needs ensuring affordable monthly payments throughout the entire duration of their loan agreement – giving peace of mind when borrowing from this trusted lender.
All things considered, choosing Fluent Money for your secured loan requirements gives customers access to flexible payment plans combined with competitive interest rates, plus expert advice from experienced advisors at every stage of the process.
Therefore, why not explore the possibilities that Fluent Money can offer?
To Recap: Fluent Money provides a great opportunity for those looking to take out a secured loan; offering fast and simple eligibility checks, competitive interest rates even with credit issues, tailored advice depending on individual circumstances and flexible payment plans. So why not check them out today?
FAQs about Fluent Money Secured Loans
Does Fluent Money charge?
Fluent Money does not charge for loan eligibility checks. We provide a free, no-obligation service to help individuals in the UK who own a house, flat or commercial property find the best secured loan product from our panel of lenders.
Our team is devoted to aiding you to acquire the ideal solution and guaranteeing your funds are safe and safeguarded.
Who owns Fluent Money?
Fluent Money is owned by Mortgage Advice Bureau (MAB). Established in 2004, the company provides secured loans to customers across the UK.
It offers competitive rates on fixed and variable rate products with fast loan eligibility checks through its bespoke panel of lenders. Fluent Money offers advice and guidance to help borrowers make informed decisions about their financial needs.
What are the main disadvantages of a secured loan?
Secured loans can be a great way to access funds, but they have certain risks. If you fail to repay the loan, your lender can repossess and sell your property to recoup their losses.
Failure to pay could cause significant issues, such as financial difficulty and loss of ownership. Secured loans typically involve higher interest rates and a greater initial outlay than unsecured ones.
Lastly, if something like sickness or joblessness happens and you can't keep up with the payments, it can be challenging for lenders to provide more accommodating terms without risking their money.
Is it a good idea to get a secured loan?
Obtaining a secured loan may be advantageous depending on one's financial circumstances.
By providing an asset as collateral, a secured loan allows you to borrow money against its value; should repayment not occur, the lender has recourse in taking ownership of the said asset.
This means that if you cannot repay it, the lender has recourse and can take ownership of your asset. Secured loans, having the advantage of an asset backing them up, often carry lower interest rates than unsecured ones due to reduced risk for lenders.
Ultimately, whether or not getting a secured loan is right depends on how much debt you already have and what other options may be available to finance whatever project or purchase you're looking at.
Conclusion
Choosing Fluent Money for your secured loan needs is an intelligent decision. With low-interest rates, flexible repayment terms and the ability to secure loans from £10,000 up to £500,000 with CCJs or arrears accepted.
It's no wonder why many UK homeowners are turning to fluent money secured loans for their borrowing needs.
Get an instant quote today and see how much you could save.
Take control of your finances today with a secure loan from Fluent Money. Get the best rates on secured loans and an easy eligibility check with our panel of UK lenders.
Fluent Money Contact Details:
Registered Office:
102 Rivington House
Chorley New Road, Horwich, Bolton, Lancashire
BL6 5UE
United Kingdom
Registered Number: 458914
Financial Services Register number: 654425
https://www.fluentmoney.co.uk/